Product description: Do you want to create a unique space?
Do you want a room full of design beauty?
We have prepared a unique karst effect glass chandelier for you. You can give full play to your imagination and decorate your house, bedroom, corridor, or dining room according to lights of different sizes. I believe it will bring you unexpected results. It is divided into three different colors and three different sizes. We recommend that you use your creative ability to combine them, the effect will be more beautiful. It adopts the Nordic minimalist style and Its spherical appearance pursues the beauty of fashion. It can bring people a light and comfortable visual enjoyment, create a warm environment, enjoy a moment of quiet space in leisure time, and slow down in the light and romantic atmosphere. As for quality, it adopts high-quality iron art lamp body and sprays paint technology, which has good corrosion resistance, rust, and discoloration resistance, and is long-lasting. The glass lampshade has good light transmittance, soft and uniform light effect, high-temperature resistance, and easy cleaning.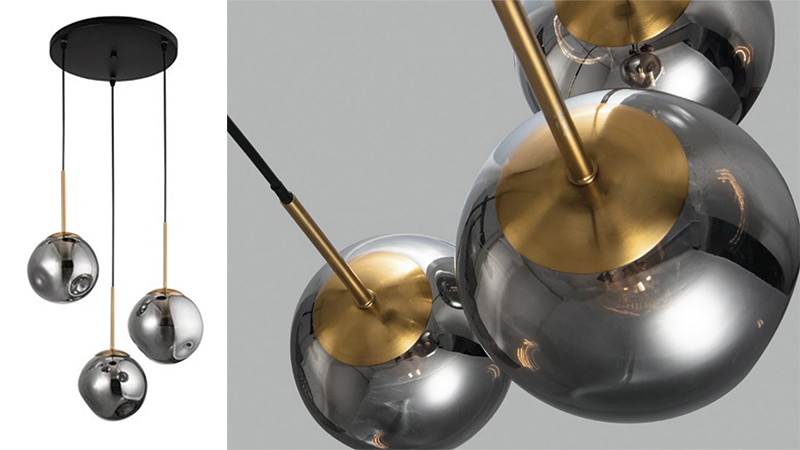 FOB: Zhongshan City,Guangdong Province, P.R. China
Material: Gold Metal & Chrome Glass
Black PVC Wire
Applicable voltage:90~240V
Type:chandelier
Application:Home decor, wedding decor, holiday decor, art and, collectibles, bars
Decoration style:European decoration style, American decoration style, modern decoration style, retro classic decoration style
Light source:LED E27 3×12 Watt 230 Volt
IP20 Bulb Excluded
Dimensions: D: 40 H1: 28 H2: 180 cm